Marine Biology News
Marine Biology Current Events is our marine biology news page. It offers news about scientific discoveries and interesting current events in marine
biology
— anything relating to the world's seas and oceans (and sometimes lakes and rivers, too). This page sometimes links to interesting stories on other websites.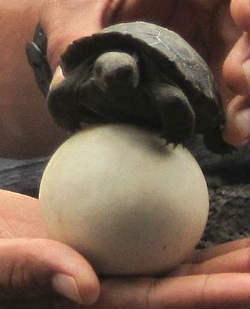 Galapagos Tortoise Hatchlings
Baby tortoises found on Galapagos island for first time in 100 years!. Read more …
Data backs limits on deep-sea fishing by depth
Study provides evidence supporting a clearly defined depth limit for deep-sea fishing in Europe. Read more …
Electrofishing: A more selective way to kill invasives
A new study suggests that electric shock is a better way to cull non-native fish in small streams Read more...
California bans plastic bags
Score one for the environment: California has banned single-use bags, the kind given out in grocery stores. Read more...
The Great Hurricane of 1900
Sept. 8: The anniversary of the greatest natural disaster in American history. Read more…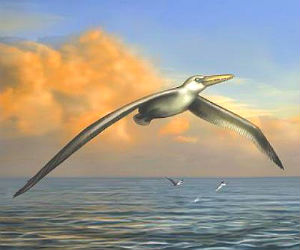 Largest bird that ever flew?
Paleontologists have identified the fossilized remains of what could be the biggest flying bird ever found. Read more...
Labrador Duck: Not extinct after all?
Is this alleged extinct North American seaduck actually be a case of mis-identification? Read more …
Sea turtles: Legal harvest tops 42,000 a year
A new study has found that 42 countries or territories around the world permit the harvest of sea turtles – and estimates that more than 42,000 turtles are caught each year by these fisheries.
Read more …
Palau's reefs: Surprisingly resistant to acid water
Marine scientists working on the coral reefs of Palau have made two unexpected discoveries that could provide insight into corals' resistance and resilience to ocean acidification. Read more …
Humpback whales:Overlapping with human activities
Tracking study charts humpback whale movements and identifies overlap with offshore ocean industries. Read more …
Southern Right Whales: Dying in Argentine Patagonia
The southern right whales that use Península Valdés, Argentina as a nursery ground have suffered the largest mortality event ever recorded. Read more …
Charcoal from forest fires: Big factor in marine carbon cycle New research shows that charcoal from forest fires is being dumped in vast quantities into the world's oceans. Read more …
Whale shark conservation: Help from holiday photos Researchers are forwarding whale shark conservation by using photos vacationers snapped on holiday. Read more …
Marine robots: Detecting endangered whales
Listening marine robots are now detecting the calls of endangered whales. Read more …
Antarctic Ice Sheet: Warming fast
Portions of the West Antarctic Ice Sheet are warming twice as fast as previously thought. Read more …
Small fish: Big role in coastal carbon cycle
A new study says small fish like anchovies play an important role in transporting carbon dioxide from the atmosphere to the deep sea. Read more …


Most shared on Macroevolution.net:
---
---
MARINE BIOLOGY CURRENT EVENTS & NEWS
Marine Biology Current Events 2015 © Macroevolution.net