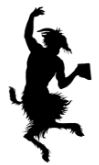 This page compiles, on an ongoing basis, the various contemporary reports appearing in the news media about alleged hybrids involving humans and either goats or sheep. (Older reports are collected here and here.)

Above: A video showing a "lamb" with human-like face, an ostensible sheep-human hybrid, birthed in Dagestan in early 2015.
Above: A video showing several views of an ostensible sheep-human hybrid birthed by a sheep in Lady Frere, South Africa in June 2017.
The Malaysian case
The case pictured at right, born on a farm in Malaysia, was first reported Friday, April 22, 2016 (other recent, similar cases are reported further down this page). Read the original news story about this birth here. The owner turned this creature, birthed by a goat, over to the Malaysian Veterinary Services Department for further investigation. It died soon after birth. To read about investigators' plans for genetic analysis of the carcass (announced 4/27/2016), click here. "We kept the carcass in a polystyrene box filled with ice cubes before taking it to the district veterinary office at around noon yesterday," said owner Ibrahim Basir, a farmer in the village of Felda. Felda is near Kota Tinggi, a town about 20 miles north of Singapore.
Note: It has been my policy in listing reports of hybrids to include all serious allegations, especially those of scholars, whether or not the hybrid alleged seems possible or likely to me. This policy, I think, helps to eliminate subjective judgment on my part, and therefore should remove at least one source of systematic bias from my work. It also helps to fulfill the ethical obligation of telling not just the truth, but the whole truth.
Note: Caprinids are members of a division of Family Bovidae that includes goats and sheep.

In recent years, there have been many allegations of caprinid-human hybrids on the internet. This page provides links to and photos from such stories available on line, as well as several YouTube videos. As usual, no opinion is offered as to the authenticity of these reports. Let the reader judge.


The Kenyan case


Two videos above: Human-like offspring birthed by a goat in Mombasa, Kenya,an ostensible goat-human hybrid.
The Argentine case
Above: A goat with humanlike face, an ostensible goat-human hybrid, was born on a farm in San Luis Province, central Argentina in July 2017.
The Turkish case
The following excerpt from the English language version of the Russian newspaper Pravda describes the case pictured in the video above (read the full article).
Sheep Gives Birth to Human-Faced Lamb in Turkey
12.01.2010
by Dmitry Sudakov
A sheep gave birth to a dead lamb with a human-like face. The animal was born in a village not far from the city of Izmir, Turkey.
Erhan Elibol, a vet, performed Cesarean section on the animal to take the lamb out, but was horrified to see that the features of the lamb's snout bore a striking resemblance to a human face.
"I've seen mutations with cows and sheep before. I've seen a one-eyed lamb, a two-headed lamb, a five-legged lamb. But when I saw this youngster I could not believe my eyes. His mother could not deliver him so I had to help the animal," the 29-year-old veterinary said.
The lamb's head had human features — the eyes, the nose and the mouth — only the ears were those of a sheep.
A Nigerian case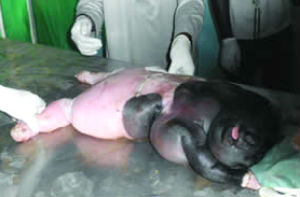 The following excerpt from the Nigerian newspaper The Daily Sun describes an ostensible human-sheep hybrid (pictured above), which was birthed by a sheep at Sokoto, Nigeria in 2012 (read the full article).
Pandemonium in Sokoto … As sheep gives birth to monster baby
Wednesday, February 8, 2012
by TUNDE OMOLEHIN, Sokoto
Residents of Sokoto metropolis are yet to come to terms with the unbelievable incident that occurred in the city recently. That was when a sheep gave birth to a monstrous being at a government owned veterinary clinic in the Sokoto State capital.
The date was Monday, January 22, this year. The news suddenly came into town at about 5pm that a monster-like creature had been discovered in a sheep's womb during an operation carried out by some veterinary surgeons in the state.
Daily Sun gathered that the inability of the sheep to deliver made it necessary for the surgeons to carry out the operation, after which the sheep was delivered of the monster baby that looked half-human.
An unusual case in which the mother of the ostensible hybrid was a woman: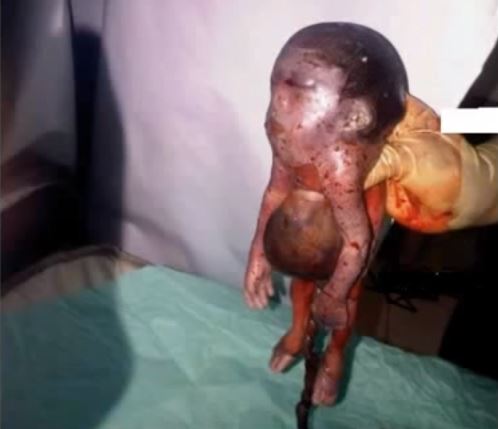 In September 2012 various news sources reported that a woman in Jahun, Nigeria gave birth to a baby with the hind legs and lower body of a goat (pictured above). Jahun is a Local Government Area of Jigawa State, Nigeria.
In being human from the navel up, and goat from there down, the Jahun birth resembles the satyrs of classical mythology.
Few details are available, but this report is unusual because 1) a human mother is alleged (in all the other cases on this page, the alleged mother is a goat) and 2) the body of the "baby" was human above the waist and goat below, the same configuration as shown in ancient Greek and Roman art. (Note the presence of hoofs on the rear extremities in the picture.) According to one news story about this birth, "A general hospital located in Jahun, Jigawa state became a theatre of the absurd and bizarre when a woman who had labored for 9 months gave birth to what looks like a combination of human head and goat legs. The woman whose identity is yet to be revealed had delivered peacefully only to have had a child with human head with no neck, and goat legs handed to her by the doctor."


Another unusual case, in which a goat gave birth to two ostensible goat-human hybrids from a single pregnancy: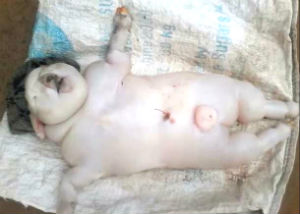 One of two human-like offspring birthed by a goat in a village in southern India in 2014 (see below)
The following excerpt from an Indian newspaper, the Deccan Chronicle, describes the case pictured above (read the full article).
Goat gives birth to human-like babies
December 23, 2014
by S.V. Krishna Chaitanya
Mysuru: It is one of those freak surprises thrown by nature. A goat at the Solapur hamlet in H.D. Kote taluk [i.e., Heggadadevana Kote, a taluk or taluk headquarters in the Mysore, or Mysuru, district in the southern Indian state of Karnataka] in Karnataka has given birth to two stillborn kids on Monday with a striking resemblance to a human face.
The goat gave birth to first human-like still-born kid at around 6.30 am. Five hours later it delivered another kid, this time a female with human features.
The incident became talk of the town instantly.
Nearly 70 per cent of the features are human-like. The eyes, nose and mouth resemble a human baby. Even the limbs are like that of a human. Only ears and foot were those of a goat.
The Zimbabwean case: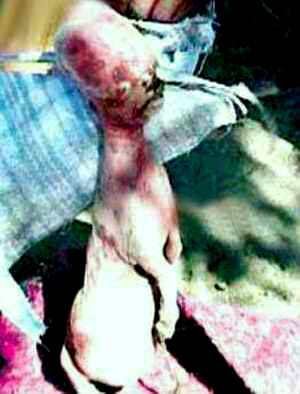 The following excerpt from the Zimbabwean newspaper New Zimbabwe describes the creature pictured above (read the full article).
Exclusive: Meet the human goat
04/09/2009
by Lindie Whiz
THESE are the shocking pictures of the human-like creature born from a goat in central Zimbabwe.
Defying science, the dead human-like being survived for several hours after birth on Sunday but died later as shocked villagers gathered in rural Maboleni, 40 miles out of the Midlands town of Gweru, to witness the "miracle".
The creature, which was incinerated by superstitious villagers before it could be taken for lab tests, had what looks like a human head, face, nose, mouth, neck and shoulders but also had goat legs and a tail. It also had human-like skin and back.
A dog-cow hybrid?


Caprinid-human hybrids - © Macroevolution.net