Meiosis is the two-stage form of cell division that produces four haploid cells from a single diploid cell (but see the note on oogenesis below). In the process, it divides a single nucleus, containing two sets of replicated chromosomes (chromosomes composed of two sister chromatids), into four nuclei, each containing a single set of unreplicated chromosomes. These steps are the phases, or stages of meiosis.
When does meiosis occur?
---
Meiosis occurs only in eukaryotes. In animals, it occurs during the production of gametes. In plants, it takes place when spores are produced (plant gametes are produced by mitosis). Meiosis does not occur in prokaryotes (i.e., archaea and bacteria). They reproduce by binary fission.
Why is meiosis necessary?
---
Meiosis has to take place at some point in a sexual reproductive cycle because it halves the chromosome number, which compensates for the doubling of the chromosome number caused by fertilization.
Oogenesis
---
In the case of oogenesis, a single egg cell and three polar bodies are produced by meiosis.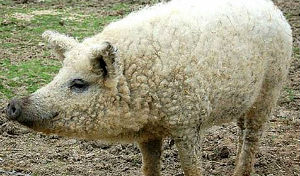 Sheep-pig hybrids?
Meiosis Stages © 2008-2015 Macroevolution.net - All rights reserved
Go, spermatozoon! Go! :)