---
"Some old red deer seems to have taken erratic courses about the ancient haunts of the Wolf of Badenoch."
—J. Brodie Innes
Letter to Charles Darwin (1/28/1870)
There are many reports of cows being impregnated by red deer stags (the reciprocal cross, bull × red deer doe, is never alleged). For example, in his Log-book of a Fisherman and Zoologist (1876, pp. 196-197), the English surgeon, zoologist, popular author and natural historian, Frank Buckland (Francis Trevelyan Buckland), gives the following account: "I must not in this chapter omit to mention a curious instance of a supposed hybrid between a cow and a red-deer which came under my notice. When inspecting
This same animal, and another like it, are discussed in letters from John Brodie Innes to Charles Darwin. Innes was one of Darwin's close friends and, until 1862, vicar of Darwin's home village of Downe. In that year he inherited an estate in Scotland and went there to live. From his new home, Innes maintained a correspondence with his friend back in Downe. The following is the text of one of his letters to Darwin, dated Dec. 7, 1868:
Dear Darwin,
The following is the text of Dr. McLean's response to Innes, dated Dec. 15, 1868.
In a letter to Darwin dated Dec. 18, 1868, Innes mentioned that he had forwarded McLean's letter.
I sent you yesterday the V.S. letter about the supposed hybrid. I was dining with a neighbour on Tuesday and talking about it. He is a very little more of a naturalist than I, so you may set him very low, he said "I should entirely have disbelieved such a report, but this beast speaks for herself and carries her own evidence in her face" — Such is my own opinion, worthless though it is — If not part deer it is a wonderful natural imitation.
In a subsequent letter to Darwin, dated Jan. 28, 1870, Innes included a clipping from a Scottish newspaper, the Elgin Courant, which mentions the same animal described by Frank Buckland in the passage quoted above.
HYBRID COW. — There is at present a hybrid cow among a herd at the home farm of Beaufort — a cross apparently between a deer and a cow. Except in the colour, which is black, the animal is identical in appearance with the one lately sold by Mr Maclean, V.S., to the proprietor of Wombwell's Menagerie. Strange to say, both animals were bred in or near the same parish — Ardclach — and in many respects bear a similar history. Mr Lawson, manager at Beaufort, bought the cow last autumn among a herd of cattle, and it has since been seen and admired by many. The hybrid cow in Wombwell's menagerie was calved at Lochindorb, and was exhibited by Mr M'Donald, Blervie, at the Forres Christmas Cattle Show in 1868.
The text of the letter itself reads as follows:
So much for Darwin. The next case appears in the Dutch language video below, which is about a probable deer-cow hybrid born in Holland in 1963. An English translation of the video appears directly below it.
The video above originally appeared as a newsreel in Dutch theaters. In English translation, the gist of the Dutch narrative is: "A farmer at Doetinchem in the eastern Netherlands sold a calf that wound up in the slaughter house but was saved by two inspectors because it strangely resembled a deer. And when asked, what did the farmer say? The mother cow had been away grazing in the woods where there are, in fact, deer. But who could have imagined a buck might be the sire? But this creature has the hair of a deer mixed with that of a calf, hindquarters that poke out in back, exactly as in a deer, and the broad face of a calf is replaced by the slim, delicate face of a deer. This calf, which will probably go to the Radboud University at Nijmegen, has a father who is a true woodsman who won't be found in any studbook. But his mother was an ordinary cow, who lives on the eaves of the forest." (Translated by Feiko van Andel.)
The following report about a fawn born to a cow appeared in the 25 May 1918 issue of Healdsburg Enterprise, a newspaper published in Healdsburg, California (access source). If the story is accurate, the "fawn" can be interpreted as a deer-cow hybrid, since hybrids sometimes closely resemble only one of their parents, which in this case would be the deer sire. Though elk (Cervus elephas) do occur in Washington, note that the type of deer is not specified.
And in the news story below from the 1960s, another such animal is described, though, from the report, it is not entirely clear what kind of deer was in question. Given the location (Florence, Montana), it might have been either an elk (Cervus elephus) or a mule deer (Odocoileus hemionus). Mule deer, however, are quite a bit smaller than cattle and therefore might have trouble carrying out such a mating.
Also dating to the 1960s, a supposed cross between a white-tailed deer (Odocoileus virginianus) and cow appeared in Farm Show Magazine in 1991 (vol. 15, no. 2, p. 34), which is pictured at right. In a letter accompanying this picture, the owner, Mr. Jennings Anderson of Mineral Point, Wisconsin, states the following:
We really enjoy articles in FARM SHOW about unusual animals and wanted to send along this photo from the 1960s. Back then I hauled livestock. One place I hauled to was a sale barn at Byron, Ill., an area with a lot of white tail deer. I bought this animal out of a veal pen for $13. It was a cross between a Holstein cow and a white tail deer. It had no hair to speak of, although it had the coloring of a Holstein. But it had deer hooves and legs, and a deer tongue. Actually it looked like the back end was Holstein and the front end was deer, since its head was narrow and fine boned. I finally sold it for $100 to a man who collected unusual animals.
An earlier description of such a deer-cow hybrid appeared in the April 19, 1887 issue of the Viennese newspaper Welt Blatt (p. 5, col. 2). It reads as follows:
And another such report of appeared four years earlier in the August 23, 1883 issue of the same newspaper (Welt Blatt, p. 5, col. 1). It reads as follows:
During the late 1850s, advertisements in various German language newspapers announced upcoming exhibits of a deer-cow hybrid (ad #1, ad #2, ad #3). This may have been the same animal described in an 1857 news notice as "half cow, half red deer, both parts living and nearly full-grown."
Another article about a deer-cow appeared in the June 11, 1847 issue of the Viennese journal Die Gegenwart, (no. 133, p. 612, col. 2). It reads as follows:
Another account of a deer-cow hybrid appears in Burdach (1839, p. 184), and another account of such a hybrid appears in Laurop and Fischer (1820-1821. pp. 124-127). In all of these alleged crosses, the sire is a stag.
And there are also two accounts of a much earlier date. In one, Gerald of Wales (Topographia Hibernica, § II, ch. xxii and Itinerarium Cambrensis, II, ch. xi) describes a cow-deer born at Chester, England in the late 12th century: "Of a cow-deer. In our own time, at Chester
Paul Zacchias (1661, p. 502), personal physician to Pope Innocent X, says he saw such a hybrid at Rome: "His eminence Cardinal Barberini possesses an animal born of
a cow and a deer. It is a little larger than a deer and has an oblong face. The cowlike horns are separated by a rounded space, and are dark gray in color. The pelage is tawny. It is exceptionally fierce and quick. Its hooves are like those of a deer, but stouter. [Original Latin: "Ex cervo & vacca natum animal habet Eminentiss. Card. Barberinus; statura est cervo aliquanto maiore, ore oblongo, cornibus vaccinis internodiis tantum orbicularim diuisis, colore nigricantibus; pilo est ex fuluo dilutiore, ferociam & velocitatem habet insignem, pedibus est cervinis, sed crassioribus."]
Note that Innes, above, stated that the Blervie animal was "cross between a Highland cow and a red deer or roe." Other reports of the latter of these two crosses, cow × roe deer (Bos taurus × Capreolus capreolus), exist:
One appears in the July 20, 1911 issue (p. 7, col. 3) of the Salzburger Volksblatt, a newspaper published in Salzburg, Austria:
Passau is a town in Lower Bavaria, Germany near the Austrian border.
Another appears in the February 13, 1876 issue (p. 4, col. 2) of the Viennese newspaper Welt Blatt:
Brzeg (former German name: Brieg) is a town in southwestern Poland. Schurgast (now Skorogoszcz) is a village about 20 km (12 mi) southeast of Brzeg.
Another report of such a hybrid appears in the April 16, 1905 issue (p. 4, col. 4) of the L'Ouest-Éclair, a newspaper published in Rennes, France:
Châteaubriant is a town in western France, about 350 km (220 mi) southwest of Paris.
Since all of these reports about roe deer × cattle hybrids refer to young animals, it may be that the actual cross involved was red deer × cow since it would probably be difficult to distinguish between the two possibilities in animals of that age. It should be kept in mind that a red deer is easily large enough to cover a cow, whereas a roe buck would not be.
Below: An old account of a deer-cow hybrid dating to 1684 (in this case the hybrid was a hermaphrodite, a condition often seen in hybrids):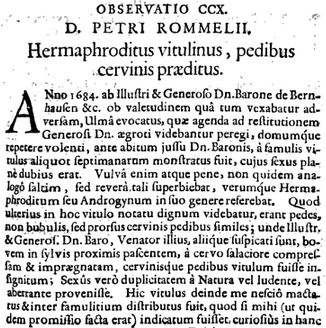 The screenshot above is from Miscellanea curiosa, sive Ephemeridum medico-physicarum Germanicarum ... (Norimbergae, 1689), Dec. II, An. VII, p. 395, obs. CCX.
Below: Screenshot of a bad copy of an brief article about a deer-cow hybrid calved in Kansas in 1953 (picture was bad in the online copy of the original newspaper):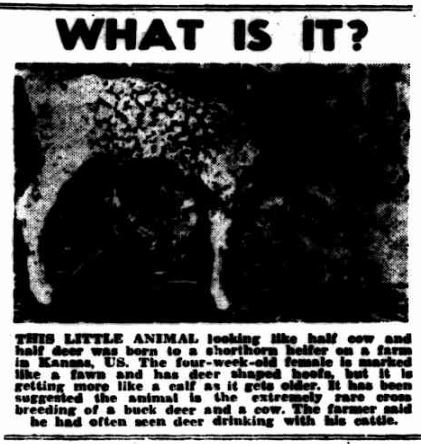 The screenshot above is from an Australian Newspaper Barrier Miner (Broken Hill, NSW) Jul 30, 1953, Page 4. Note: Cervus elaphus has not occurred in Kansas since the early eighteenth century. So the deer in question here would belong to the genus Odocoileus, either O. hemionus or Odocoileus virginianus.
Deer-cow Hybrids - © Macroevolution.net