"Some old red deer seems to have taken erratic courses about the ancient haunts of the Wolf of Badenoch."
—J. Brodie Innes
Letter to Charles Darwin (1/28/1870)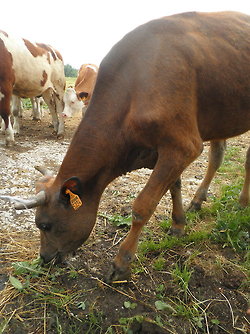 An ostensible deer-cow hybrid (
more pictures
) was photographed in France in 2013, the same animal as shown above.
More info >>
There are many reports of cows being impregnated by red deer stags (the reciprocal cross, bull × red deer doe, is never alleged). For example, in his Log-book of a Fisherman and Zoologist (1876, pp. 196-197), the English surgeon, zoologist, popular author and natural historian, Frank Buckland (Francis Trevelyan Buckland), gives the following account: "I must not in this chapter omit to mention a curious instance of a supposed hybrid between a cow and a red-deer which came under my notice. When inspecting
the river Beauly, near Inverness, Lord Lovat kindly asked me to examine a supposed hybrid between a red-deer stag and a cow, which was in the cow byres at Beaufort Castle. The animal was standing in a straw-yard. With its head turned away, it was like an ordinary black Scotch cow, but when she turned her head I was amazingly struck with the very deer-like appearance of the face, which the set-on of the ears, the oblong Chinese-like eyes, and the narrow prolongated muzzle, increased.
The story is that a cow was kept in a distant locality, where she could have access to none of her own species, but that there were red-deer stags about. A calf was unexpectedly born in which the deer features appeared. This calf has now grown up into the animal, as above described, which was then four years old. The herdsman told me that the other cattle would never associate with it; and in fact, when he drove it into the cow-shed, in order to tie it up for me to examine, the other animals turned their heads, and snorted at it.
Frank Buckland
(1826-1880)


Red Deer (
Cervus elaphus
), known also in North America as an Elk or Wapiti
Note: Red deer are often treated as conspecific with the elk, or wapiti, of North America.
The voice is not like that of the other cattle; it is a short noise like "ump!" "ump!" The action when trotting is somewhat higher than that of an ordinary cow. There are no horns, but a bony knob of a somewhat triangular shape between the ears. Although the resemblance to the deer about the head is exceedingly remarkable, I cannot bring myself to believe that it is a true hybrid.
This same animal and another like it, are discussed in letters from John Brodie Innes to Charles Darwin. Innes was one of Darwin's close friends and, until 1862, vicar of Darwin's home village of Downe. In that year he inherited an estate in Scotland and went there to live. From his new home, Innes maintained a correspondence with his friend back in Downe. The following is the text of one of his letters to Darwin, dated Dec. 7, 1868:
Dear Darwin,
At our cattle shew today there was exhibited an odd looking beast supposed to be a cross between a Highland cow and a red deer
or roe
— It has much of the deer head, and legs, it is a dun, the hair curly, on body, and nearly bare on legs. I did not see it at liberty but it is said to go with the long trot of the deer and to carry its head looking about like them. It strikes one on looking at it to have as much of the deer as cow about it. All that the owner, McDonald tenant of Blervie [a castle five miles southeast of Forres in northern Scotland] knows about it is that a little cow in the hills who had been in places frequented by deer had calved it two years ago. A veterinary surgeon at Inverness McLean bought it and I have told him to ascertain what he can about it and tell me, in case you may care to know about it. I have asked him to give an accurate description of its coat, the formation of legs, gait, habits, to ascertain whether the dam had been put to bull, or if a bull was within reach of access when she was running loose — To send a photograph of the beast, a female.
If this is a curiosity and anything occurs to you to ask I will put the questions, or you could ask them of Mr. McLean V.S. Inverness.
Mr. Key, a corn merchant in Forres told me he had once before seen a beast of the kind but it was not such an ugly one as this.
Believe me Dear Darwin.
Yours faithfully,
J. Brodie Innes
The following is the text of Dr. McLean's response to Innes, dated Dec. 15, 1868.
J. Brodie Innes Esqr.
Sir,
I beg to be excused for being so long in answering your letter of the 8th, which I duly received.
As to your query whether the cow was sent to a Bull, or whether there was a Bull going along with the cow — I can not in th[e] mean time answer — Mr. McDonald told me that the woman had only one cow — in the neighbourhood of a deer Forrest — the head of the animal resembles altogether that of a deer — the teeth ar[e] differantly set from those of a cattle beast — the eye is distinctly that of a deer— in short the head and ears ar[e] quite differant from that of a cow — the ears are perfictly bare of hair — the Ligamentum nuchae — is much stronger than [t]hat of a cattle beast of the same age — the Cervical vertebra is also peculiarly that of a deer — the general construction of the trunk is such as a cattle beast of the same age would have — with the exception of the dorsal Spines which are much Longer.
The extremities — again differ completely from those of a cattle beast — the bones being much smaller and finer — the muscles being harder and much more of a tendonous construction — Showing a peculiar adaptation for speed — there are several parts of the body in the mean time perfectly free of hair — particularly the extremities — My own Impression is that when the animal casts its coat in Spring it will be almost bare of hair — the gait more resembles that of a deer than that of a cattle beast — the hair in the mean time is soft and silky — Any more Information I will gladly give.
Your obedient Servant,
S. McLean
In a letter to Darwin dated Dec. 18, 1868, Innes mentioned that he had forwarded McLean's letter.
I sent you yesterday the V.S. letter about the supposed hybrid. I was dining with a neighbour on Tuesday and talking about it. He is a very little more of a naturalist than I, so you may set him very low, he said "I should entirely have disbelieved such a report, but this beast speaks for herself and carries her own evidence in her face" — Such is my own opinion, worthless though it is — If not part deer it is a wonderful natural imitation.
In a subsequent letter to Darwin, dated Jan. 28, 1870, Innes included a clipping from a Scottish newspaper, the Elgin Courant, which mentions the same animal described by Frank Buckland in the passage quoted above.
HYBRID COW. — There is at present a hybrid cow among a herd at the home farm of Beaufort — a cross apparently between a deer and a cow. Except in the colour, which is black, the animal is identical in appearance with the one lately sold by Mr Maclean, V.S., to the proprietor of Wombwell's Menagerie. Strange to say, both animals were bred in or near the same parish — Ardclach — and in many respects bear a similar history. Mr Lawson, manager at Beaufort, bought the cow last autumn among a herd of cattle, and it has since been seen and admired by many. The hybrid cow in Wombwell's menagerie was calved at Lochindorb, and was exhibited by Mr M'Donald, Blervie, at the Forres Christmas Cattle Show in 1868.
The text of the letter itself reads as follows:
Dear Darwin,
The above is from the Elgin Courant of this day 28th Jan., 1870. I have not seen the animal. It is satisfactory to know that the former one, which I told you of before and which seemed if not a hybrid, a wonderfully good imitation of one has gone to a menagerie where perhaps in life or death the truth of its origin may be tested. Some old red deer seems to have taken erratic courses about the ancient haunts of the Wolf of Badenoch.
Faithfully Yours
J. Brodie Innes
So much for Darwin's case. The following report about a fawn born to a cow appeared in the 25 May 1918 issue of Healdsburg Enterprise, a newspaper published in Healdsburg, California (access source). If the story is accurate, the "fawn" can be interpreted a a deer-cow hybrid, since hybrids sometimes closely resemble only one of their parents, which in this case would be the deer sire. Note that though elk (Cervus elephas) do occur in Washington, the type of deer is not specified.
JERSEY COW GIVES BIRTH TO A FAWN
Springdale, Wash., April 27.—Giving birth to a fawn, a Jersey cow on the ranch of G. R. De Vries, five miles from Springdale, a few weeks ago provided a freak of nature never before heard of, according to De Vries. "It is a deer in every particular," he said.
"It is a deer in every particular," he said. "The head is a trifle broader than that of a purebred fawn, but in every other particular it is perfect. It weighed only about ten pounds at birth, and is full of life, vigorous, and possesses all the characteristics of a fawn in its native forests. The mother is a purebred Jersey, 18 months old."
"The hair is a mixture of white and red, and the ears lie well back on the head. I am sure it is a fawn. Its mother and grandmother have been running on the range some twelve to eighteen miles west of Springdale, on the eastern slope of the Huckleberry mountains, where deer are plentiful the year round."
An earlier description of such a deer-cow hybrid appeared in the April 19, 1887 issue of the Viennese newspaper Welt Blatt (p. 5, col. 2). It reads as follows:
A Sport of Nature.
Next month, Neupest resident Johann Mauts will exhibit an interesting beast at the Budapest cattle market. Mr. Mauts is, in fact, the owner of a well-grown calf that stems from a Swiss cow and a red deer stag. The calf, a male, has inherited features from his sire and his appearance strongly reminds one of a red deer. His body is naked but otherwise well-proportioned. [Translated by E. M. McCarthy.
Original German
.]
And another such report of appeared four years earlier in the August 23, 1883 issue of the same newspaper (Welt Blatt, p. 5, col. 1). It reads as follows:
Sport of Nature.
From Alschbach we have received the following: Recently, a cow at Sonntagberg was delivered of two calves that were half red deer, half cow. The head and coat, as well as the hoofs, are those of a red deer. The tail is like that of a cow. The young beasts are very cute. Their eyes, especially, are beautiful, and their coats are a lovely velvety brown. People are curious now whether they will develop horns or antlers. One of these creatures is male, the other, female. The cow, who came from the mountains, was pregnant when she was purchased. [Translated by E. M. McCarthy.
Original German
.]
During the late 1850s, advertisements in various German language newspapers announced upcoming exhibits of a deer-cow hybrid (ad #1, ad #2, ad #3). This may have been the same animal described in an 1857 news notice as "half cow, half red deer, both parts living and nearly full-grown."
Another article about a deer-cow appeared in the June 11, 1847 issue of the Viennese journal Die Gegenwart, (no. 133, p. 612, col. 2). It reads as follows:
A remarkable sport of nature is to be found in Wolfsberg in Kärnten [the southernmost state in modern-day Austria]: a calf with striking similarities to a deer. These are especially noticeable in the color and stiffness of the hair on its back and in the construction of the hind feet, which indeed are not so slim as in a deer, but the musculature is analogous, so that a disrupted coordination of the fore and hind feet is obvious. So, in walking slowly, the beast cannot help limping with its hind legs, which are not at all in harmony with the forefeet. In running, however, and springing as deer do, it plants both hind feet together and this lack of coordination due to difference in musculature is no longer evident. The beast was calved by an ordinary cow at Lorenz in Klagenfurter Kreise [a region of Kärnten] in December, 1844. Witnesses had earlier seen a stag regularly mingling with the herd and grazing with her. — Dr. Stur in Wolfsberg has been assigned to investigate the matter further upon the death of this animal. [Translated by E. M. McCarthy.
Original German
.]
Another account of a deer-cow hybrid appears in Burdach (1839, p. 184), and another account of such a hybrid appears in Laurop and Fischer (1820-1821. pp. 124-127). In all of these alleged crosses, the sire is a stag.
And there are also two accounts of a much earlier date. In one, Gerald of Wales (Topographia Hibernica, § II, ch. xxii and Itinerarium Cambrensis, II, ch. xi) describes a cow-deer born at Chester, England in the late 12th century: "Of a cow-deer. In our own time, at Chester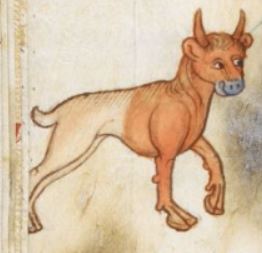 Enlarge
Illustration of the Deer-cow of Chester (from Gerald of Wales's Topographia Hibernica).


in England, a deer accosted a cow and from this union a cow-deer was produced. The anterior portion of the animal all the way back to the genital organs was like a cow. But the hips, tail, hindlegs and feet had the hair and color of a deer. But because it preferred cattle to the wild deer it remained with them in the domestic herd. [Translated by E.M. McCarthy. Original Latin (from Topographia Hibernica): "De vacca cervina. Apud Cestriam Britanniae, temporibus nostris, ad vaccam cervus accesserat; unde et vacca cervina processit. Parte enim anteriore tota usque ad inguina bos erat; coxas subinde cum cauda, tibias, et pedes, expresse cum pilositate et colore cervinos habens. Sed quia plus pecoris quam ferae preferebat, inter armenta resedit" Brewer (1861-1891, p. 109).]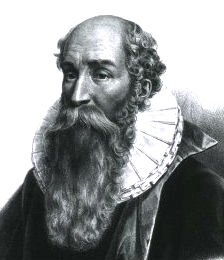 Paul Zacchias
(1584-1659)
Paul Zacchias (1661, p. 502), personal physician to Pope Innocent X, says he saw such a hybrid at Rome: "His eminence Cardinal Barberini possesses an animal born of
a cow and a deer. It is a little larger than a deer and has an oblong face. The cowlike horns are separated by a rounded space, and are dark gray in color. The pelage is tawny. It is exceptionally fierce and quick. Its hooves are like those of a deer, but stouter. [Original Latin: "Ex ceruo & vacca natum animal habet Eminentiss. Card. Barberinus; statura est ceruo aliquanto maiore, ore oblongo, cornibus vaccinis internodiis tantum orbicularim diuisis, colore nigricantibus; pilo est ex fuluo dilutiore, ferociam & velocitatem habet insignem, pedibus est ceruinis, sed crassioribus."]
Finally, three brief mentions of a different but closely related cross, cow × roe deer (Bos taurus × Capreolus capreolus):
One appears in the July 20, 1911 issue (p. 7, col. 3) of the Salzburger Volksblatt, a newspaper published in Salzburg, Austria:
Passau, July 19. The meal dealer Feicht has an eight-week-old male calf that lacks one of its forefeet. In addition, this monstrosity has the hind legs and hindquarters of a roe deer. [Translated by E. M. McCarthy.
Original German
.]
Passau is a town in Lower Bavaria, Germany near the Austrian border.
Another appears in the February 13, 1876 issue (p. 4, col. 2) of the Viennese newspaper Welt Blatt:
Half Roe Deer Half Calf.
From Brieg, it has been reported that in Sawade, near Schurgast, a cow has given birth to a calf that is half cow and half roe deer. The head, fore portion of the body, and the tail are those of a roe deer, while the rear part of its body and the hind legs are those of a cow. The creature died soon after birth. [Translated by E. M. McCarthy.
Original German
.]
Brzeg (former German name: Brieg) is a town in southwestern Poland. Schurgast (now Skorogoszcz) is a village about 20 km (12 mi) southeast of Brzeg.
Another appears in the April 16, 1905 issue (p. 4, col. 4) of the L'Ouest-Éclair, a newspaper published in Rennes, France:
A FREAK. — At this time, in Châteaubriant there is an extremely odd animal there at La Jandelays, the farm of a M. Peluet, residing there. This animal, born of a cow and which is nearly naked has the head of a roe deer and the feet of a roe deer doe. The hair on its back is like that of a horse.
This singular creature is in good health and can be viewed at La Jandelays.
[Translated by E. M. McCarthy.
Original French
.]
Châteaubriant is a town in western France, about 350 km (220 mi) southwest of Paris
More cervid × bovid crosses:
Below: A news account of a deer-cow hybrid.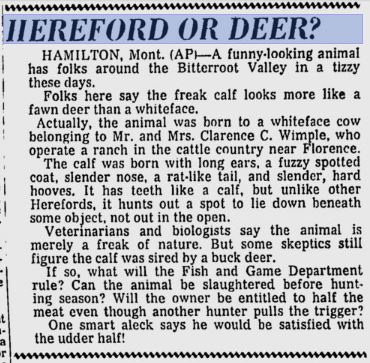 The screenshot above is from page 6 of The Spokesman-Review May 17, 1961, published in Spokane, Washington.
Below: An old account of a deer-cow hybrid dating to 1840:
The screenshot above is from The Cultivator: A Monthly Journal Devoted to Agriculture ..., 1841, Volume 8.
Below: An old account of a deer-cow hybrid dating to 1684 (in this case the hybrid was a hermaphrodite, a common condition in many hybrid crosses):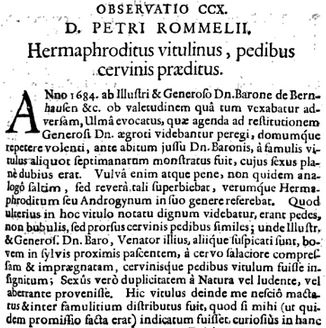 The screenshot above is from Miscellanea curiosa, sive Ephemeridum medico-physicarum Germanicarum ... (Norimbergae, 1689), Dec. II, An. VII, p. 395, obs. CCX.
Below: Screenshot of a bad copy of an brief article about a deer-cow hybrid calved in Kansas in 1953 (picture was bad in the online copy of the original newspaper):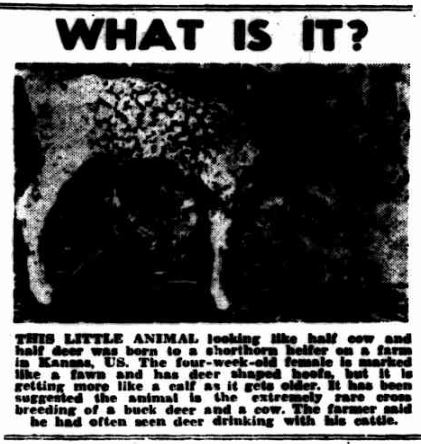 The screenshot above is from an Australian Newspaper Barrier Miner (Broken Hill, NSW) Jul 30, 1953, Page 4. Note: Cervus elaphus does not occur in Kansas, so the deer in question here would be Odocoileus virginianus.

Most shared on Macroevolution.net:
---
Human Origins: Are we hybrids?
On the Origins of New Forms of Life
Mammalian Hybrids
Cat-rabbit Hybrids: Fact or fiction?
Famous Biologists
Dog-cow Hybrids
Georges Cuvier: A Biography
Prothero: A Rebuttal
Branches of Biology
Dog-fox Hybrids
Deer-cow hybrids - © Macroevolution.net