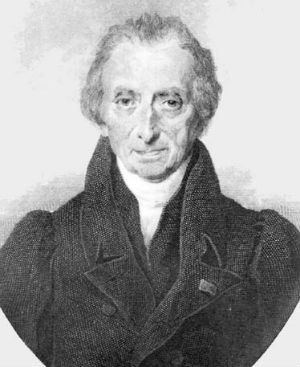 Peter Simon Pallas
(1741-1811)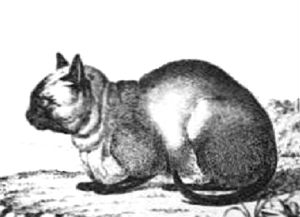 An alleged marten-cat hybrid (Pallas 1812, p. 51). Note the similarity of this animal to a Siamese cat.


Beech Marten
(Martes foina)
Image: Franco Atirador, Wikimedia
Note: A Youtube video shows a male ferret mating with female domestic cat. A ferret is the domestic equivalent of Mustela putorius
Peter Simon Pallas (1741-1811) was a German naturalist who received an appointment from Catherine the Great in 1767 and thereafter spent most of his career in Russia, studying and documenting the flora and fauna of the empire. Between 1793 and 1794, he led an expedition to southern Russia, and en route passed through the Oblast of Penza. The administrative center of Penza is the city of Penza, which lies on the Sura River, 625 kilometers (388 miles) southeast of Moscow. He gives an eye-witness account (Pallas 1803, pp. 34-36) of the progeny of a domestic cat, which he saw there, and which he clearly regarded as probable hybrids between a cat and a marten (though the English translations of his book say "polecat," in the original, he uses the German word Marder, which means marten). Given the geographic location of Penza, this case might refer either to a beech marten (Martes foina) or a pine marten (Martes martes). Note that the animal he pictures (see image at right) looks very much like a Siamese cat. Here's what he had to say:
Later writers mention this same cross and seem to refer to even the same event, but some aspects of the later accounts are different. For instance, they seem to refer to the same case as Pallas, in that they talk about a cat going out to the woods and mating with a marten, and the event again occurs in Penza. However, in these subsequent mentions of the cross, there are four hybrids in the litter, two like a marten and two that are more like cats. Moreover, according to these later accounts the hybrids are fertile and founded a new breed of furbearing animal. One example, is an anonymous article that appeared in a French magazine about recent scientific discoveries (Archives des découvertes et des inventions nouvelles: faites dans ... pendant l'annee 1819, Volume 12, Paris: Treuttle and Würst, 1820, p. 24). It reads as follows:
Several subsequent articles (e.g., Morton 1847b, pp. 275-276) tell much the same story.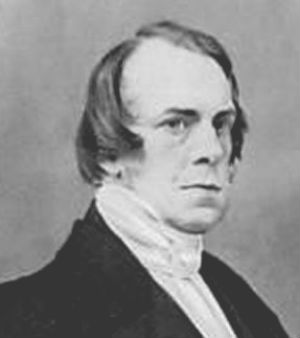 Heinrich Georg Bronn
(1800-1862)
In a separate case, Heinrich Georg Bronn (1800–1862), the German geologist und paleontologist, creator of the first German translation of Darwin's Origin of Species, gives the following account of two animals thought to be hybrids between beech marten (Martes foina) and house cat (Bronn 1847, p. 178):
A list of cat crosses
The following is a list of reported cat crosses. Some of these crosses are much better documented than others (as indicated by the reliability arrow). Indeed, some might seem completely impossible. But all have been reported at least once. The links below are to separate articles. Additional crosses, not listed here, are covered on the cat hybrids page.


By the same author: Handbook of Avian Hybrids of the World, Oxford University Press (2006).

Most shared on Macroevolution.net:
---
Human Origins: Are we hybrids?
On the Origins of New Forms of Life
Mammalian Hybrids
Cat-rabbit Hybrids: Fact or fiction?
Famous Biologists
Dog-cow Hybrids
Georges Cuvier: A Biography
Prothero: A Rebuttal
Branches of Biology
Dog-fox Hybrids


Cat-marten hybrids - Mammalian Hybrids - © Macroevolution.net