Mole Hybrids
Family Talpidae
EUGENE M. MCCARTHY, PHD GENETICS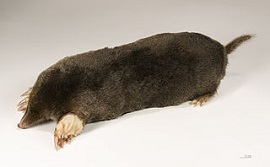 European Mole
Talpa europaea
Image:
Descouens
To the author's knowledge, the following is the only cross reported for Family Talpidae. If you know of other such hybrids, please contact the website.
Talpa europaea [European Mole]
× Talpa romana [Roman Mole] ENHR(central Italy). The studied portion of the hybrid zone is near Assisi. Within the zone, out of 65 individuals examined, 16 were probable hybrids. Loy et al. 2001.
Talpa romana [Roman Mole] See: Talpa europaea.
A dog-cow hybrid?
By the same author: Handbook of Avian Hybrids of the World, Oxford University Press (2006).
Mole Hybrids - © Macroevolution.net