Frog-human Hybrids
Quoted news reports
EUGENE M. MCCARTHY, PHD GENETICS, ΦΒΚ
The frog answered, "I do not want your clothes, your pearls and precious stones, nor your golden crown, but if you will love me and accept me as a companion and playmate, and let me sit next to you at your table and eat from your golden plate and drink from your cup and sleep in your bed, if you will promise this to me, then I'll dive down and bring your golden ball back to you."
—The Frog Prince,
Brothers Grimm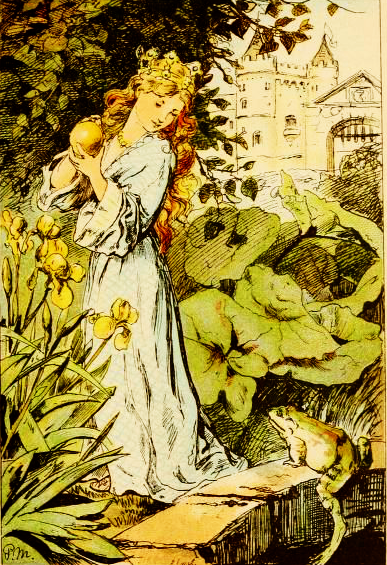 This page collects reports about creatures that are, supposedly, half human and half anuran, that is, frog-human hybrids and toad-human hybrids. The best known story about a woman loving a frog is the fairy tale about the princess and the frog, which is just that, a fairy tale. But nonfictional accounts, at least accounts that purport to be nonfictional, exist as well.
For example, the following report appeared on page 9, columns 1 and 2, of the April 2, 1887, issue of the German-language newspaper Znaimer Wochenblatt, which was published in Znojmo (Znaim), a town that at the time of the report's publication lay in the Austro-Hungarian Empire, but is now what in the Czech Republic:
A Horrific Monster. From Stockerau: Last Saturday in Niederfellabrunn, a 32 year-old unmarried maidservant Franziska H. gave birth to a hideous monster alive. The child was like a human being with respect to its torso, that is, its shoulders, chest and upper abdomen. But the head and the lower belly were those of a large—toad. In addition the hands on its little arms exactly resembled the feet of the animal just named. The mother, who already had one normally developed child, attributed the present monstrosity to an accident that had happened to her the previous summer while she was out picking flowers. She had received a huge shock, she said, when a toad suddenly sprang out at her. The mother was so horrified by this monstrous creature that she at once stamped it to death. The authorities were notified of the case by Dr. Jakob, who stated that the child's face was not that of a human being, so no charges were brought. [Translated by E. M. McCarthy. Original German.]
The town of Stockerau and the village of Niederfellabrunn lie just north of Vienna across the Danube.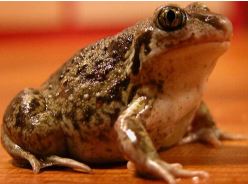 The Common Spadefoot Toad, the anuran that a resident of Niederfellabrunn would be most likely to meet.
The following is the most detailed report about a supposed amphibian-human hybrid that extensive search has yet revealed. It appeared on the front page, columns 5 and 6, of the June 5, 1886, issue of the St. Paul Daily Globe, a newspaper published in St. Paul, Minnesota (source). This same story appeared in many other newspapers around the U.S. that year.
Killed His Child
Because it Was a Monstrosity, and Couldn't Walk
Special to the Globe.
Macon
. Ga., June 4.—A strange case came to light in East Macon. Henrietta Cook, a negro woman, well known on the east side of the river, appeared before Justice Subers for the purpose of swearing out a warrant against her son-in-law, one Joe Kitchens, who had threatened her life. Joe married Henrietta's daughter in 1880. In that year he found a negro named Gus Johnson talking to his wife, and without much ado he shot Gus in the head, killing him rather instantly. Joe was sent to the penitentiary for ten years, but was pardoned out after serving five years in the Dale coal mines. Shortly after his retirement to the penitentiary a child was born to him, who proved both a monstrosity and a prodigy, being half human and half frog, withal, exceedingly bright in mind. The child was so horribly misshapen that the mother did not like to keep it, and it was taken by its grandmother, who became very much attached to it. The child grew to be nearly 6 years old, but never walked. His hands and feet were turned outward,
SIMILARLY TO THOSE OF A FROG,
and his method of locomotion was by hopping. His jumps were prodigious, jumping from two to six feet. There were no ribs on the left side and he slept with the left foot around his neck, Behind the ears and under his chin was a thin membrane which filled with air while he talked. While he could speak distinctly, during his sleep he uttered a sound similar to that of the croaking of a frog. He was such a curiosity that he was kept confined in the house to prevent curious people from seeing him, though he was well-known to the people who live in the locality. Last October Joe returned and saw his child for the first time. He took the child away from the grandmother and carried him to his house in the country, almost a mile from town. According to Henrietta's statement Joe ill-treated the child, and on last Sunday was so angered with him because he could not walk that he gave him a tremendous kick in the stomach, sending him across the room. On Monday evening the child died. Joe then made his wife measure the child and go after a coffin. This she did, carrying the coffin on her head. Yesterday the coroner was notified of the facts, and had the corpse disinterred, and last night the jury returned the verdict of willful murder.
The following account, which was published in many American newspapers at the time, is taken from page 3, column 1, of the March 4, 1858, issue of the Yorkville Enquirer, a newspaper published in Yorkville, South Carolina (source):
Singular and Awful Freak of Nature—A Child with a Frog's Head.—
A negro woman, belonging to Mr. Lawrence Smith, of Petersburg, Va., lately gave birth to a child, the physical malformations of which were of the most horrible and extraordinary character. From the waist downward the child was like others and symmetrically built, but above the middle it was moulded into a frightful resemblance to the form of a frog. The head was flat, the mouth being several inches wide, and placed underneath. The nose was entirely wanting, as the eyes stood out like goggles. No physician who saw it had ever witnessed any phenomenon to compare with it, and it was considered by them a perfectly unprecedented occurrence in the annals of embryology. It lived but a few hours. The ears were the only portion of the head which did not bear a resemblance to a frog, and these were much like those of a cat, being salient and pointed, and adding still more to the horrible appearance of the anomalous creature.
Another frog-human hopped onto page 2, column 7, of the July 8, 1879, issue of The Spirit of Democracy, a newspaper published in Woodsfield, Ohio (source):
Birth of a Human Frog
Bellefontaine, July 2.— The wife of a resident of this city was delivered this morning of a human frog. The parents reside in the western part of this city.—The child's head apparently grows right from the shoulders—no neck. The face is right on top of the head, with mouth and eyes precisely like a frog. The arms and legs are also an exact counterpart of that animal's, being bent in the position assumed when swimming, the hands and feet terminating in long claws. The umbilicus is situated on the back, and a well defined heart and liver attached to the back of its neck. A rudimentary arm also sprouts from each side of its head. The human monstrosity was born dead, although living to within a few minutes of its delivery.
Bellefontaine, where this birth supposedly occurred, is a town in Logan County, Ohio.
The following appeared on page 4, column 1, of the October 10, 1893, issue of The Evening Bulletin, a newspaper published in Maysville, Kentucky (source):
Human Monstrosity.
Minneapolis,
Oct. 10.—A report comes from St. Nicholas, Stearns County, this state [i.e., Minnesota], that a human monstrosity was born to Math Hammerding and wife, a well known German couple in that town. The deformed child has no arms, not even a sign where arms should be, and its body and head largely resemble that of a frog.
The next report is from page 4, column 2, of the May 17, 1902, issue of The Lancaster Ledger, a newspaper published in Lancaster, South Carolina (source):
A Monstrosity
A colored woman living not far from Waxhaw [North Carolina] has given birth to what the doctors pronounce a "monstrosity." It has the body and limbs of a fairly well developed infant, but its head is very much like that of a huge frog. The head is almost flat at the back, the eyes being large and in the top of the head. Its face has somewhat of an owlish appearance, but is perhaps more like that of a frog. Drs. H. C. Houston and J. V. Hunter made an autopsy and found that it had no brain whatever, its spinal column extending clear up the back of the head. It had no neck at all. Photographs of both the front and side views were made and will be preserved.—Rock Hill Herald.
The following appeared on page 5, column 2, of the January 4, 1903, issue of The Daily Ardmoreite, a newspaper published in Ardmore, Oklahoma (source):
WAS A PERFECT MONSTROSITY
Had a Head Like a Frog—Lived Only
a Few Minutes
The Ardmoreite heard a few days ago that a lady in this city had recently given birth to what physicians call a regular monstrosity. The doctor attending the lady was seen yesterday by an Ardmoreite reporter and told him that it was a fact, and showed us a picture in one of his books which, he said, was a facsimile of the child.
From the neck down was a perfect form, he said, while the head resembled the head of a toad. The eyes stuck out and the head had all the other formations to make it resemble a toad.
A brief notice about a woman giving birth to a bullfrog appeared in column 1 of page 3 of the May 23, 1893, issue of The Progressive Farmer, a newspaper published in Winston, North Carolina (source):
A white woman living at King's Mountain, Gaston County, [North Carolina], gave birth to a remarkable freak of nature last week. The monster has the head, body, limbs and color of a large bull frog.
This allegation of one type of animal, a human being, giving birth to another type of animal, a bullfrog, is reminiscent of other reports, quoted elsewhere on this site, in which animals of one kind supposedly gave birth to progeny of a different kind.
The following appeared on page 2, column 6, of the Feb. 5, 1880, issue of the Home Journal, a newspaper published in Perry, Georgia (source):
A Boy Who Resembles a Frog
[Troy (Tenn.) News.]



Five miles southwest of Kenton, Tenn., on the Mobile and Ohio railroad is the greatest monstrosity of the age—a human being who resembles a frog. He is the son of R. Newell, is twenty-six inches high, weighs forty-eight pounds, and was born in Obion County, Tennessee, March 12, 1875. His body and arms are regularly formed and well developed, his fingers are short, and the manner in which they are set on his hands give them the appearance of a frog's feet; his legs are small and are set at right angles with the regular line of walk; his feet are small and badly formed; his face is eight or nine inches long and makes an angle of sixty-two degrees with the base of skull (facial) angle; his head is almost conical; his eyes are small and without expression; his upper jaw projects far over the lower one; his lower jaw is small and has a superabundance of flesh attached, which renders him very froggy. He can't talk. If you throw a nickel on the floor he will light on it like a chicken on a June-bug. He can't walk, but what is wanting in walking is made up in jumping. I saw him jump eight feet after a dime; if a tub of water is placed near him, he will jump into it like a duck. In rainy weather he goes to the door and leaps out, and remains outdoors until the rain is over. Obion County has given birth to the following: The female dwarfs, the mud-negro, the sleeping beauty, and the frog-child. She is justly entitled to the appellation, "Mother of Monstrosities."
And then we have another report about a frog-baby that appeared on page 4, column 1, of the September 21, 1882, issue of the Weekly Expositor, a newspaper published in Brockway Centre, Michigan (source):
A few weeks ago, Mary Schaek, a young unmarried woman, residing with her father and brothers about three miles northeast of Minden, gave birth to a lifeless monstrosity, having the limbs and body of a human being, with a perfectly formed bullfrog's head and neck. Doctor Johnson, the attending physician, attempted to obtain it as a specimen for the medical museum at Ann Arbor, but the mother's permission could not be obtained. The doctor says it was the most hideous object he ever beheld, and as a freak of nature, is a curiosity of no common order.
Minden, now Minden City, is a village in Sanilac County, Michigan.
The following notice appeared on the front page, column 1, of the March 3, 1868, issue of The Daily Phoenix, a newspaper published in Columbia, South Carolina (source).
A Human Monstrosity
.—One of the most remarkable freaks of nature which we have witnessed lately is embraced in the following report, which we can vouch for being true: A Mrs. Darnel, who resides in this place [i.e., Petersburg, Indiana], gave birth to a child last Saturday, whose head and eyes were similar to a frog's head and eyes, while its body was as perfect in form as flesh could be. This strange freak is supposed to have been occasioned by the lady having, while engaged in weeding her garden last summer, dug up a frog, which she accidentally struck with a hoe, cutting a deep gash in its head, which alarmed her so as to cause her child to be born with a head like a frog, and in which the gash showed very distinctly. The child lived but a few moments after birth.
Petersburg (Ind.) Tribune
.
And a much briefer notice about a frog-human hybrid exists as well. It appeared on page 3, column 4, of the November 12, 1885, issue of the Western sentinel, a newspaper published in Winston-Salem, North Carolina (source).
In a side show at the Goldsboro fair grounds was a real monstrosity in the way of little Matthew, a colored boy 16 years of age, half frog and half human. He was born in Kershaw County, South Carolina.
In
The Gods of the Egyptians
(
1904, p. 378
), Wallace Budge says that "The frog appears to have been worshipped in primitive times as the symbol of generation, birth, and fertility in general; the Frog-goddess Heqet, or Heqtit, was identified with Hathor, and was originally the female counterpart of Khnemu, by whom she became the mother of Heru-ur. The great antiquity of the cult of the frog is proved by the fact that each of the four primeval gods, Hell, Kek, Nau, and Amen, is depicted with the head of a frog, while his female counterpart has the head of a serpent. The cult of the frog is one of the oldest in Egypt, and the Frog-god and the Frog-goddess were believed to have played very prominent parts in the creation of the world."
One birth produced an individual in which the brains were absent. Known as anencephaly, this condition seems to occur at high rates in distant hybrids. The report in question appeared on page 2, column 4, of the June 9, 1880, issue of the Juniata Sentinel and Republican, a newspaper published in Mifflintown, Pennsylvania (source).
On Saturday two weeks ago, a lady was delivered of a monstrosity, a child without a head, but otherwise fully developed. It weighs about seven pounds, and is considered a splendid pathological specimen. There is an excrescence protruding from the top of the trunk between the shoulders where the neck ought to be, which has two large eyes, a nose and mouth, with hare-lip. There is [sic] no occipital or parietal bones and no brains. In a sitting position the child resembles a huge frog, which was the cause of a fright to the mother some months ago.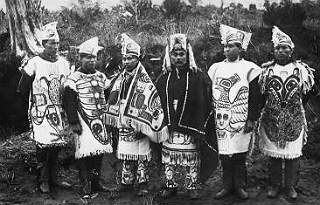 In his introduction to Grimm's
Household Tales
, Andrew Lang (
1884, p. lxxii
) says a belief exists among the Tsimshian (above), an indigenous people of the Pacific Northwest coast, that they are descended from a frog. In the same place, he mentions that tales of human beings marrying frogs are told in Germany, Scotland and Russia.
If these strange births actually are anuran-human hybrids, the question remains how a male frog or a toad might introduce its semen into the reproductive tract of a woman. Two possibilities occur: (1) Since both frogs and toads engage in external fertilization, anuran spermatozoa abound in bodies of fresh water at certain times of year. Given such circumstances all that might be required would be for the woman to go for a swim at the right time and place; (2) In a case that supposedly occurred in 1517 in France (see illustration and accompanying information below), the woman that gave birth to the frog-faced baby was running a temperature and a friend advised her to hold a live frog in her hand to help to break her fever. This, apparently, was a folk remedy of the day. She did so and then had sex with her husband. Obviously, the frog might have urinated on her hand, and the urine of male anurans contains sperm cells. So there would have been an opportunity to introduce the frog's sperm into her reproductive tract while she engaged in the subsequent intercourse. Also, if belief in such a remedy was widespread, it might account for other such froggy births.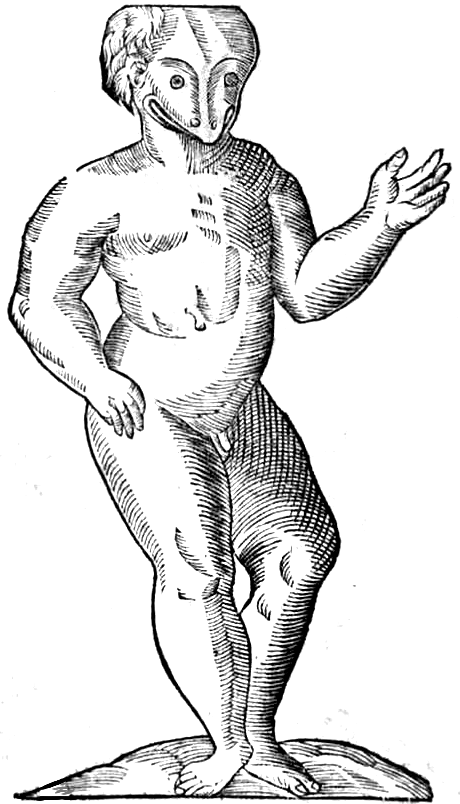 A frog-faced boy. This image is from Ambroise Paré's On Monsters and Marvels, first published in 1573, a book that has been reprinted for more than 400 years, with the latest printing in 1982.
An early case. The frog-faced boy depicted at right was first described by Ambroise Paré, personal physician to French kings Henry II, Francis II, Charles IX and Henry III. Paré is remembered as a pioneer of modern surgery, forensic pathology, and battlefield medicine. His account (Paré 1641, pp. 658-659) of this specimen reads as follows:
In the year 1517 in the parish of Blois le Roy [today Bois-le-Roi, a commune in the Seine-et-Marne department in the Île-de-France region in north-central France] in the forest of Bievre [today the Forêt de Fontainebleau, or Forêt de Bière], along the road to Fontainebleau, an infant was born having the face of a frog, which was seen and visited by Jean Belangier, a surgeon of the King's artillery, in the presence of court officials from Harmois [which suggests that a procès-verbal
‡
was sworn out, which may still exist in court records], namely, the Honorable Jacques Bribon, the King's prosecutor in that place, Etienne Lardot, a resident of Melun [a commune in the Seine-et-Marne department], Jean de Vitry, the Royal Notary at Melun, and others. The father was called Esme Perit, and the mother, Magdelaine Sarboucart. Belangier, a man of good sense, wanted to know why this monster had been born, and he asked the father what could have caused it. He responded that, in his opinion, it was because his wife had been running a temperature and a woman in the neighborhood had told her that if she held a live frog in her hand it would break her fever. And she did hold a frog in her hand until it was dead. And that night, holding the frog in her hand all the while, she slept with her husband. They had intercourse, she conceived, and by the force of her imagination this monster had been produced. [Translated by E. M. McCarthy.
Original French
.]
‡ In French law a procès-verbal is a detailed authenticated account drawn up by a magistrate, police officer, or other person having authority of acts or proceedings done in the exercise of his duty. In a criminal charge, a procès-verbal is a statement of the facts of the case.
By the same author: Handbook of Avian Hybrids of the World, Oxford University Press (2006).
Frog-human Hybrids - © Macroevolution.net