Frances Oldham Kelsey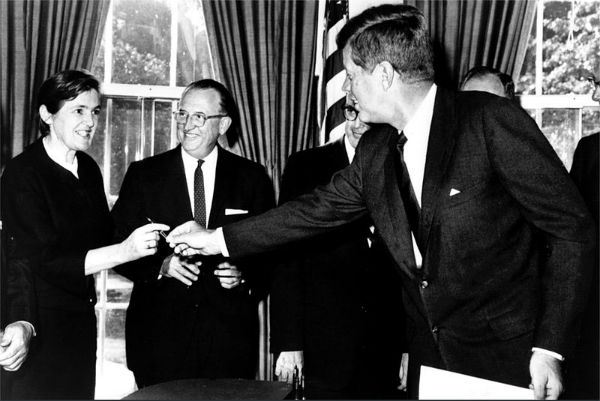 After signing the Kefauver-Harris Drug Amendments on October 10, 1962, President Kennedy presents his pen to Dr. Frances O. Kelsey.


EUGENE M. MCCARTHY, PHD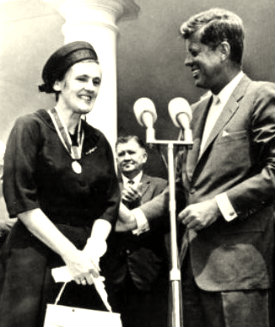 Frances Oldham Kelsey receiving the President's Award for Distinguished Federal Civilian Service from President John F. Kennedy
Simply by doing science and sticking to her guns, pharmacologist and physician Frances Oldham Kelsey saved thousands of infants from being born without arms and legs. She was the FDA medical reviewer who said no to Big Pharma and single-handedly prevented approval of thalidomide in the U.S. market. Her actions during her career brought about major reforms in the way drugs are reviewed for market in the United States.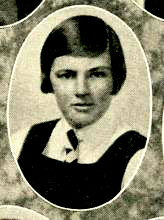 Kelsey in high school (1929)
She was born Frances Kathleen Oldham on July 24, 1914 at Cobble Hill, a farming village on the southeastern coast of Vancouver Island (British Columbia, Canada). An exceptional student, she finished high school when she was only 15 and graduated from McGill University at 19. She then went on to the University of Chigago where she received a Ph.D. in Pharmacology in 1938.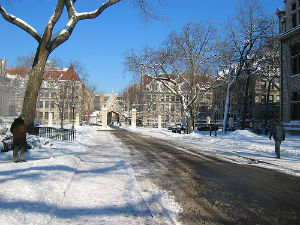 University of Chicago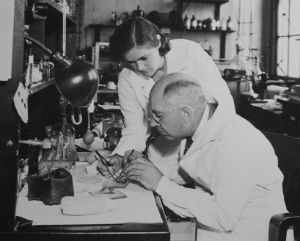 Kelsey early in her career
While doing graduate work there with E. M. K. Geiling, she developed an interest in teratogens – drugs causing congenital malformations in fetuses. Also while at Chicago, she met her husband-to-be, Dr. F. Ellis Kelsey, a fellow faculty member. They married in 1943, and their two daughters were born while she was earning her medical degree, also at the University of Chicago, which she received in 1950.
As soon as she received her degree, Frances went to work for the American Medical Association as an editorial associate. Part of her work for the AMA involved reviewing articles about new drugs, an experience that gave her a good nose for sniffing out dubious claims. Later, in her autobiography about her experience there, she said,
We all agreed that many of the submissions were poor, and we also observed that no matter whether we turned them down or not they inevitably got published in some other journal, because the journals circulated amongst us. We would see these articles and realize that we had reviewed them and recommended they not be accepted. Certain names would keep recurring both in articles and things like letters and so forth. We kept a sort of informal list. We would jot down, "Oh, it's Dr. So-and-so again, or So-and-so and So-and-so." Then eight years later, when I came to the FDA, I saw many familiar names as contributors of clinical studies to the NDAs (New Drug Applications).
She worked at the AMA for two years until 1952, when her husband got an offer to head the Pharmacology Department at the University of South Dakota Medical School in Vermillion, South Dakota. He accepted and they moved to Vermillion that summer. Frances, who did not yet have her medical license, took an internship at Sacred Heart Hospital Hospital in nearby Yankton. Afterward for several years she taught and did research there at the university.
In 1960, the Kelseys moved to Washington, D.C. where Ellis went to work at the National Institutes of Health (NIH), and Frances was hired by the Food and Drug Administration (FDA). Her first assignment was to review an application for approval of the drug thalidomide filed by the Richardson Merrell Company. Its intended use was as a tranquilizer and painkiller, specifically for pregnant women with morning sickness. It had already been approved in more than 20 countries. Kelsey, however, withheld approval and asked for additional studies. Richardson Merrell applied pressure, but she persisted in her demands for evidence that the drug was safe.
Video: An interview with Frances Oldham Kelsey
It wasn't long before the facts dramatically justified Kelsey's doubts. Soon, in other countries, including her native Canada, many thousands of mothers who took thalidomide were giving birth to deformed infants. When the truth came out that Kelsey had single-handedly prevented thousands of infants from being born without arms or legs, she was hailed as a heroine.
On August 7, 1962, President John F. Kennedy awarded Kelsey the highest honor given to a civilian in the United States, the President's Award for Distinguished Federal Civilian Service. Frances Oldham Kelsey was only the second woman ever to receive the award. In Kennedy's words, "Her exceptional judgment in evaluating a new drug for safety for human use has prevented a major tragedy of birth deformities in the United States. Through high ability and steadfast confidence in her professional decision she has made an outstanding contribution to the protection of the health of the American people."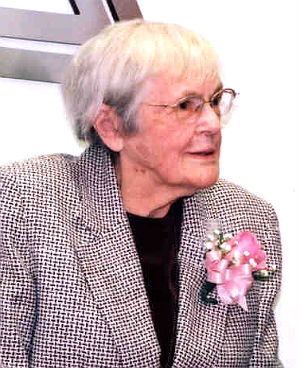 Frances Oldham Kelsey in 2001
In bringing the important role of the FDA to public attention, Kelsey has had lasting influence. After the thalidomide tragedy, Congress passed extensive drug testing reforms that greatly increased the funding of the FDA and ushered in a new era in which the testing and distribution of drugs are now far more stringent. Drugs must now be shown to be both safe and effective, and adverse reactions in trials have to be reported to the FDA. For many years, Kelsey oversaw the implementation of these changes as chief of the FDA's Division of New Drugs, director of the Division of Scientific Investigations, and deputy for Scientific and Medical Affairs, Office of Compliance. She did not officially retire until 2002, when she was 87 years old.
The New York Times's Gardiner Harris summed up the facts when he commented that Kelsey is "America's most admired civil servant — celebrated for her dual role in saving thousands of newborns from the perils of the drug thalidomide and in serving as midwife to modern pharmaceutical regulation."
Kelsey lived to be 101, dying August 7, 2015.
Thank you, Frances!

Most shared on Macroevolution.net:
---
Human Origins: Are we hybrids?
On the Origins of New Forms of Life
Mammalian Hybrids
Cat-rabbit Hybrids: Fact or fiction?
Famous Biologists
Dog-cow Hybrids
Georges Cuvier: A Biography
Prothero: A Rebuttal
Branches of Biology
Dog-fox Hybrids